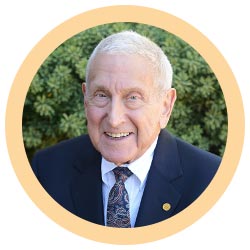 We are so sad to share that Dr. Richard Burnstine passed February 21st, 2017. Dr. Burnstine was a founder of the practice in 1968 and retired in 2016 after over 50 years caring for and treating thousands of children across the northern suburbs. As well as an amazing physician, he was a beloved mentor, colleague, and teacher to many people at our practice and throughout the Chicago medical community. Needless to say, he will be greatly missed by everyone at North Suburban Pediatrics.
Dr. Burnstine was a graduate of Harvard College and Harvard Medical School. His post-graduate training was at Bellevue Hospital in Medicine and New York Hospital and Boston Children's Hospital in Pediatrics. He served as a member of the American Board of Pediatrics and as president of the Illinois Chapter of the American Academy of Pediatrics. He was a Professor of Clinical Pediatrics at Northwestern University Medical School, a Senior Attending Pediatrician at Evanston Hospital, and was a fellow of the Institute of Medicine of Chicago.
Active in many community organizations, Dr. Burnstine was a Board member and Physician-in-Chief at the Cradle, a not-for-profit adoption agency in Evanston, and he also founded the Child Protection Committee at Evanston Hospital, serving as its chair for 25 years.